Intro
Rather than doing a typical unboxing and initial review of the XReal Air AR Glasses (formerly Nreal), which has been covered extensively by other tech reviewers, I wanted to share my personal experience owning these glasses over the last three months. In this blog post, I'll discuss the positives, negatives, and challenges I encountered, providing insights that can help you decide if these glasses are worth your investment in terms of both money and time.
Intro (cont)
It's important to note that my observations come from the perspective of a PC and Android user. However, many of the aspects I discuss are relevant across different platforms and manufacturers.
Now, let's dive into what I believe is the most significant issue with these glasses.
Battery Issues
One major drawback I've found with the XReal Air AR Glasses is their lack of an internal battery. These glasses rely on the device they're connected to for power. If you connect them to your phone, you'll notice that they consume a significant amount of battery life. For instance, when using my Samsung S21 Ultra as the power source, the glasses drained around 5% of the phone's battery every ten minutes. This means that even at a full charge, the glasses and your phone will only last for about two hours. While there is a dongle solution available that allows you to pass power and display signals through to the phone and glasses, the setup can be quite cumbersome and inconvenient. However, this compromise is necessary to keep the glasses lightweight and avoid making them bulky. Perhaps in the future, XReal will develop an adapter that can pass power without the need for multiple cables and dongles, but only time will tell.
On the other hand, if you have the glasses plugged into a laptop or desktop, this battery issue is less prominent since laptops have larger batteries, and desktops have a more or less unlimited power supply. Speaking of desktop PCs, there is another issue that arises, but fortunately, there is a solution.
Connecting to a PC
I have previously written an entire post dedicated to explaining how to connect the xreal air ar glasses to a desktop PC, but the TL;DR is that if you have a desktop PC with a discrete graphics card and no USB-C ports with video output, you will need to purchase an additional specialized cable to connect the glasses to your PC. This cable is a USB-powered display port to USB-C cable, which is different from the HDMI version that some people mistakenly use. Fortunately, the glasses work out of the box with most modern laptops. Even my five-year-old HP Envy laptop works perfectly when connected to the glasses via the USB port. XReal should improve their communication on how to connect the glasses to a PC more easily. While the developers often state that direct PC connection is not supported, using this specialized cable has resolved any issues with my system, which utilizes an Nvidia GeForce 3080. Buy this cable on Amazon here.
Display port connection with a powered USB-A to USB-C adapter
Side Benefits
Two unexpected benefits of wearing these glasses are worth mentioning. First, when I go for my regular walks to get away from my computer, I no longer need to constantly look down at my phone. Instead, I can put on the glasses and look straight ahead, which has actually helped reduce strain on my neck since I'm not constantly looking down.
The second benefit is the freedom it provides for my hands while walking. I can still enjoy entertainment by using the glasses, freeing up my hands to do other tasks instead of constantly holding my phone.
Nebula for PC
At the time of writing, the Nebula app for Windows was still in beta, but I found it to be quite impressive. The app does exactly what you need it to do, allowing you to set up virtual screens, zoom in and out within the limitations of the glasses' 46 degrees of field of view (FOV), and adjust settings as needed. It's a simple yet effective app that works perfectly on my PC. However, your experience may vary, and I'm excited to see what additional features XReal adds to the app in the future.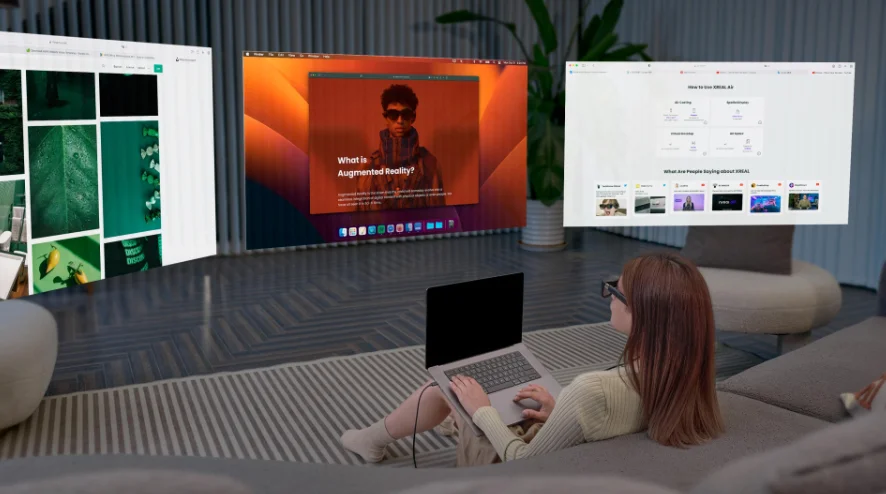 Corrective Lenses
For those of us who wear glasses, XReal provides a pair of corrective lens frames with the glasses. This frame allows you to get custom prescription lenses made by a third party. Wearing standard glasses along with the XReal glasses is impractical due to the fit, so the custom lenses are essential. The cost of getting these lenses made is approximately $50, and while there aren't many vendors offering this service, I found one that worked well for me. The lenses have greatly enhanced my experience, particularly since I recently updated my prescription.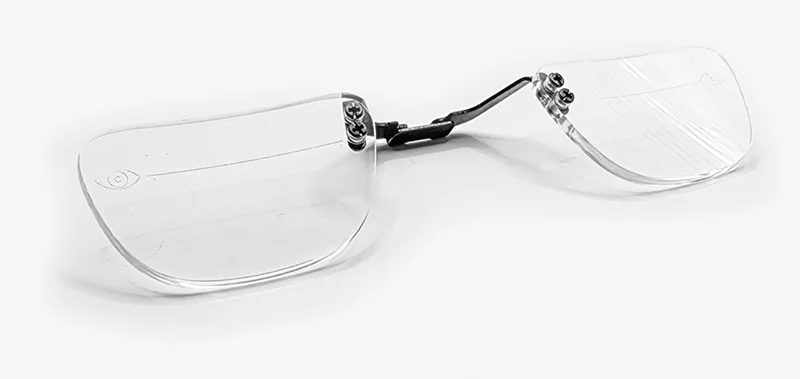 Productivity
One of the main reasons I purchased these glasses was for the potential productivity boost they could provide remotely without the need for additional physical screens. I bought the glasses even before the Nebula app for Windows was introduced, but I kept up with the development team's progress and knew the app was on the way. Despite the limited FOV, which restricts peripheral vision, I can still set up three virtual screens and easily switch between them by simply looking left or right. Although the glasses cannot replace my dual-monitor setup at home yet, they are incredibly useful when I'm on the go, and I have all three virtual screens active. I hope that future iterations of the glasses will offer a wider FOV, allowing for the use of one monitor along with the glasses to create two additional virtual monitors. This would significantly declutter my workspace. Until then, I'm satisfied with my current setup.
Nebula Phone App
I have experimented with the Nebula phone app for Android, and while it initially seemed fun and novel, the novelty quickly wore off when attempting to use various included apps, especially entertainment platforms like YouTube. The pointing feature and virtual panels are enjoyable to play with initially, but ultimately, I disabled the app from starting when I connect my glasses to my phone. Instead, I opted to use Samsung's Dex feature on my Samsung devices, which works seamlessly. With Dex, I can use the phone screen as a touchpad while viewing everything through the glasses.
Price
The XReal Air AR Glasses do come with an early adopter price, but I was pleasantly surprised that they only cost around $400, especially when compared to the Apple's new Vision Pro. Although the XReal glasses lack basically all of the advanced features of the Vision Pro, they provide a similar experience at a fraction of the price. As technology advances, I anticipate that similar devices will become even more affordable while offering comparable or enhanced features.
Should You Buy the XReal Glasses?
Determining whether to purchase a pair of XReal Air AR Glasses depends on your specific needs and preferences. Personally, I was particularly drawn to these glasses due to the additional health benefits they offer, such as the ability to walk around without constantly looking down at my phone. However, this benefit may vary from person to person. While the productivity aspect didn't fully meet my expectations due to the limited FOV, and I still find myself wishing for better clarity when working on detailed tasks like website development, the glasses excel in the entertainment department, which is one of their primary uses for me now. Initially, I felt the price was somewhat high, but upon considering the features and comparing them to the Apple Vision Pro, I realized it was justified. If my current pair were to break and I couldn't get them fixed under warranty, I would still consider buying them again. 
While improvements are needed, such as a wider FOV and alternative power solutions, these are compromises that come with early-generation devices. I'm confident that future iterations will address these concerns. Overall, that has been my experience with the XReal Air AR Glasses so far. If you're interested in augmented reality and want to explore this emerging technology, I would recommend giving these glasses a try.